03 août 2011
Ok, every year it's Christmas in July!! So excited to get the brand new stuff from North and Fanatic!! This year i went for Hero (new 4 battens sail) and ID for the sails and Skate TE and Quad TE for the boards. I just tried Skate 99 and 109 and ID 5.4, Hero 5.0 and 4.7. I am not used to say that every year the new stuff is amazing, blablabla.... but this year there are real changes. The Skate's shape is completly new with shorter, wider and flater board that give you more pop and control in strong wind (http://www.u-ride.net/modules.php?name=News&file=article&sid=6120 ). For the sails the ID is extremely light compared to the 2011 Duke. The Hero is definitly the one. Lot of power, contrôle and super handy felling.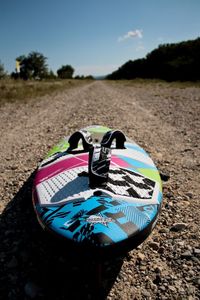 Have a look to that short clip http://vimeo.com/27123239
Vincent
Commentaires sur New Stuff!!!