01 octobre 2011
Lot of news since my last update!!!
First of all i had many perfect freestyle sessions at home with my new stuff. Have a look to the video we did with Blandine http://vimeo.com/29337034! Amazing sunrise light in the mountain and strong south wind. Hope you like it.
In a second time i entered 2 SUP race event. One in Lyon with 100 other SUP Racers and all the top european rider. I was able to finish the long distance race in 5th place! Stocked! I was interviewed by Franck from Get Up Sup Mag http://vimeo.com/29100814 . Two weeks later i went to Translac du Bourget where i finished 2nd in the 25km race just behind Didier Leneil. Wind or no wind, every time on the water!!!
Now time for one week in Brittany, hope we get some great conditions...
Vincent
21 août 2011
One week in the Pays Basque to test the brand new Fanatic Pro Wave 8'6''. Not a lot of wave but still fun with small break depending the tide. New boards are amazing with new shapes, new fins (thruster or quad). Perfect for effortless turns!!! Love it!!
Now back to Grenoble. Hope for some freestyle session with south wind this week...
03 août 2011
Ok, every year it's Christmas in July!! So excited to get the brand new stuff from North and Fanatic!! This year i went for Hero (new 4 battens sail) and ID for the sails and Skate TE and Quad TE for the boards. I just tried Skate 99 and 109 and ID 5.4, Hero 5.0 and 4.7. I am not used to say that every year the new stuff is amazing, blablabla.... but this year there are real changes. The Skate's shape is completly new with shorter, wider and flater board that give you more pop and control in strong wind (http://www.u-ride.net/modules.php?name=News&file=article&sid=6120 ). For the sails the ID is extremely light compared to the 2011 Duke. The Hero is definitly the one. Lot of power, contrôle and super handy felling.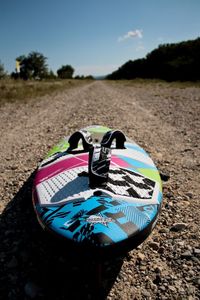 Have a look to that short clip http://vimeo.com/27123239
Vincent